Important Reminder:
Earlier Release starts Wednesday October 14th at 12:55pm. Dismissal will be every Wednesday at 12:55pm through January 20, 2021. January 27, 2021 we will resume dismissal at 1:45pm on Wednesdays.
Even with the new guidelines proposed by the CDC, the St. Johns County School District will follow the specific guidance from the local Florida Department of Health regarding how long students should quarantine.
For more information visit PES Health Clinic page
A Message from Captain Goodrich
Hello PES families,
I so enjoyed welcoming our students back from break this week! I hope each of you had a peaceful holiday and are staying healthy. As we begin 2021, we must continue to look out for each other, show grace, and continue to follow safety protocols. Even though COVID prevention fatigue may be settling in for some of us, now is not the time to let our guard down.  January is historically referred to as "cold and flu season", and this year we must be cognizant of COVID as well.  Please continue to remind your children about the importance of handwashing, not touching one's face, and wearing a clean mask each day. (Some students opt to pack a clean "back up mask" in their backpack.  Good idea!)  As a school community, we have handled this virus in a remarkable way. I am thankful for minimal illnesses, and the open communication between home and school when faced with a possible exposure.  Our staff continue to work in extraordinary ways to teach and care for our children while amplifying cleaning, distancing, documenting seating arrangements (in case there is a need for contact tracing), reworking travel patterns to minimize hallway traffic, etc… If either Nurse Garcia or I can answer any questions for you, please reach out. Our children's safety and well-being are top priorities.
An additional CONGRATULATIONS to 5th grader, Akhil Korrapati, for earning a spot in the final round of SJCSD's Spelling Bee that will be held on Wednesday, January 13th.  He is representing PES well and we are very proud. Thank you, Debby Gardner, for coordinating the Spelling Bee for our school.
Parents, the generosity you showed our teachers and staff for the holidays was splendid! We certainly felt appreciated and pampered.  Again, I respect the outpouring of gratitude and joy you shared during a most unusual holiday season.
Together in Education,
Captain Goodrich
2020-2021 Instructional Materials Adoption for English Language Arts (ELA)
St. Johns County School District curriculum department representatives and adoption committee members have completed the review process for the Instructional Materials Adoption for English Language Arts (ELA). On January 26, 2021, the School Board will conduct a public hearing to receive comment from the community regarding the final list of recommendations for instructional resources for this adoption. The public is invited to attend this hearing. Committees composed of teachers, district content experts, parents and community members compiled the lists. The hearing will be held at 9:00 a.m. in the auditorium of the District Administrative Building located at 40 Orange Street in St. Augustine.
View the final recommended selections and links to the selections. If you would like access to available printed materials or require assistance reviewing the online resources, please call the Instructional Resources and Media Services office at 904.547.3947. Materials are available for review from 8:30 a.m. - 4:30 p.m. when district offices are open.
Board action on the final recommendations for English Language Arts instructional materials is expected to take place at the School Board meeting in February.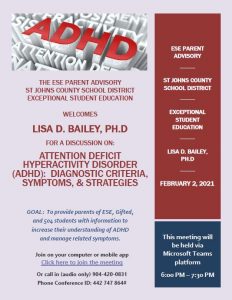 On February 2nd from 6:00pm to 7:30pm, the ESE Parent Advisory will welcome Lisa D. Bailey, Ph.D., for a virtual discussion titled "Attention Deficit Hyperactivity Disorder (ADHD): Diagnostic Criteria, Symptoms & Strategies." Join the meeting online via Microsoft Teams or join via phone by dialing 1-904-420-0831 and then entering the conference ID: 442 747 864#
Change in Afternoon Transportation & EARLY DISMISSALS
For the safety of all students, children may not be checked out of school after 2:15 pm on Monday, Tuesday, Thursday or Friday and 12:15 on Wednesday.
If you need to change the way your child goes home in the afternoon or for an early dismissal, please complete our Dismissal Change Form by clicking the button below.   Early Dismissals – Note  – we do not send children to the front office until you have arrived and shown your photo ID to the front office staff.
Dismissal changes can only be accepted before 2:00pm (12:00pm on Wednesdays).  
We cannot accept phone calls for those changes.  Changes in afternoon transportation should only be for emergency situations.  Thank you for your understanding.
We cannot accept phone calls for those changes.  Changes in afternoon transportation should only be for emergency situations.  Thank you for your understanding.
Bring Your Own Device (BYOD)
The St. Johns County School District is now open to a Bring Your Own Device (BYOD) environment. Please know this is an optional item. District issued devices will continue to be available in our classrooms.
SchoolMessenger provides parents/guardians with a mobile app and website which allows them to view and listen to previous messages and to verify their phone numbers. SchoolMessenger also lets parents/guardians select which modes of communication they prefer (voice/text/email) based on the type of message being sent
District Policies & Procedures
FortifyFL is a website and app developed at the direction of the Florida Legislature. Any student, educator, parent or member of the public can report school safety concerns directly to law enforcement and school administrators anonymously and easily through the FortifyFL app or getfortifyfl.com.
This is just a reminder that anyone (parent, guardian, friend, neighbor, aunt, uncle) must have school access to attend an event at Palencia Elementary, have lunch with a student and/or attend an awards assembly. If you have not already done so, please complete the School Access Form. The process for approval may take up to 4 weeks, so please fill out the application sooner than later for any guests that would like to have school access. Once the application is approved, school access will be valid for three years.