The COVID info web page for SJCSD families is now live
 ST JOHNS COUNTY SCHOOL DISTRICT HEALTH SERVICES     
STUDENT SYMPTOM CRITERIA CHECKLIST
Due to the nature of communicable illnesses and during this time of COVID-19 Pandemic, in addition to symptoms of commonly occurring illnesses, any student presenting with the following symptoms will be sent to the school nurse for assessment.  Parents will be contacted regarding student pick-up. 
Symptom criteria from the Florida Chapter of the American Academy of Pediatrics states students who meet the screening criteria below should be sent home for further medical evaluation.
TWO OR MORE OF THE FOLLOWING:
Chills
Muscle aches
Headache
Sore throat
New decrease in smell or taste
Vomiting and/or diarrhea
OR ONE OF THE FOLLOWING:
Fever of 100.4 or higher
Uncontrolled cough
Shortness of breath
Your child must be evaluated by a healthcare provider and must present a clearance note to return to school.  Contact your healthcare provider or the Department of Health regarding your child's symptoms.
Per CDC and AAP guidelines, if your child is not medically evaluated, he/she must remain at home for at least 10 days from the first day symptoms appeared AND 24 hours fever free without fever-reducing medications AND improvement of symptoms.
If you decide to not have your child medically evaluated and choose to keep him/her home for the 10 day recommendation, you must send a written note stating such with your child upon their return to school.
For any additional questions about your child's care contact Department of Health, St. Johns at (904) 506-6217 
A Message from Captain Goodrich
Hello PES families, We made it! Thank you all for a successful school year. Here are some key points from the past week, this week, and looking ahead this summer: • School safety is top priority in St. Johns County. Safety procedures and expectations are continually reiterated and monitored. School safety drills (lock down, fire, inclement weather, and evacuation) are routinely practiced at PES. Deputy Cicero, school staff, and I work each day to ensure PES is a safe place to learn and grow. • Congratulations, 5th graders! We will miss you. So many new, special memories were made during your end of the year events. • Last week, 3rd grade FSA scores in English Language Arts were released. 83% of our students scored at a level 3 or above. This was the fifth highest of 26 schools in St. Johns County School district. The district average was 76% of students scoring at a level 3 or above. • This Thursday is the last day of school. Dismissal is at 1:45 PM. Report Cards are issued. No backpacks this day. • Remember to turn in your 22-23 Student Information Questionnaire. I read them all and do my best to customize student placement. • The school's summer office hours will be 7:30 AM – 3:30 PM, Monday – Friday. We are closed on Monday, July 4th . • As new neighbors move in, encourage them to register for school ASAP. They can begin the registration process even if some paperwork is still missing. When families wait and enroll students at the last minute, we then scramble to hire teachers at the last minute. It continues to be my honor and privilege to serve the students at Palencia Elementary School. Have a wonderful summer!
Together in Education,
Catherine Goodrich
Principal

2021-2022 Instructional Materials Adoption for Mathematics UPDATE
On February 8, 2022, the St. Johns County School Board voted to approve the list of recommended resources for adoption for Math. View the final list of approved resources. Florida Statute allows parents or residents of the county to object to the adoption of a specific instructional material. If you would like to contest the adoption of the Math resources, you must complete the Reconsideration of Instructional Materials Request Form and submit it to the SJCSD Instructional Resources and Media Services Department no later than noon on March 10, 2022.
Please visit our Instructional Materials Adoption web page to:
Access the math resources that are being considered for adoption.
Learn more about the policies and procedures for textbook adoption.
B.E.S.T. Standards Presentation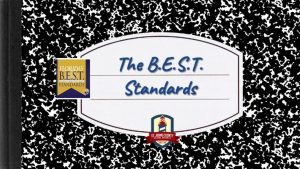 The purpose of the video is to provide parents and community members with information about the new B.E.S.T. Standards for English Language Arts and math. The video also explains the timeline for the implementation of the new standards.
View the B.E.S.T. Standards Presentation
Please submit the ONLINE ATTENDANCE FORM to the front office when your student in absent.
Change in Afternoon Transportation & EARLY DISMISSALS
For the safety of all students, children may not be checked out of school after 2:15 pm on Monday, Tuesday, Thursday or Friday and 1:15 on Wednesday.
If you need to change the way your child goes home in the afternoon or for an early dismissal, please complete our Dismissal Change Form by clicking the button below.   Early Dismissals – Note  – we do not send children to the front office until you have arrived and shown your photo ID to the front office staff.
Dismissal changes can only be accepted before 2:00pm (1:00pm on Wednesdays).  
We cannot accept phone calls for those changes.  Changes in afternoon transportation should only be for emergency situations.  Thank you for your understanding.
Bring Your Own Device (BYOD)
The St. Johns County School District is now open to a Bring Your Own Device (BYOD) environment. Please know this is an optional item. District issued devices will continue to be available in our classrooms.
SchoolMessenger provides parents/guardians with a mobile app and website which allows them to view and listen to previous messages and to verify their phone numbers. SchoolMessenger also lets parents/guardians select which modes of communication they prefer (voice/text/email) based on the type of message being sent
District Policies & Procedures
FortifyFL is a website and app developed at the direction of the Florida Legislature. Any student, educator, parent or member of the public can report school safety concerns directly to law enforcement and school administrators anonymously and easily through the FortifyFL app or getfortifyfl.com.
This is just a reminder that anyone (parent, guardian, friend, neighbor, aunt, uncle) must have school access to attend an event at Palencia Elementary, have lunch with a student and/or attend an awards assembly. If you have not already done so, please complete the School Access Form. The process for approval may take up to 4 weeks, so please fill out the application sooner than later for any guests that would like to have school access. Once the application is approved, school access will be valid for three years.