Registration Information:
The COVID info web page for SJCSD families is now live   https://www.stjohns.k12.fl.us/covid-19/

ST JOHNS COUNTY SCHOOL DISTRICT HEALTH SERVICES     
STUDENT SYMPTOM CRITERIA CHECKLIST
Due to the nature of communicable illnesses and during this time of COVID-19 Pandemic, in addition to symptoms of commonly occurring illnesses, any student presenting with the following symptoms will be sent to the school nurse for assessment.  Parents will be contacted regarding student pick-up. 
Symptom criteria from the Florida Chapter of the American Academy of Pediatrics states students who meet the screening criteria below should be sent home for further medical evaluation.
TWO OR MORE OF THE FOLLOWING:
Chills
Muscle aches
Headache
Sore throat
New decrease in smell or taste
Vomiting and/or diarrhea
OR ONE OF THE FOLLOWING:
Fever of 100.4 or higher
Uncontrolled cough
Shortness of breath
Your child must be evaluated by a healthcare provider and must present a clearance note to return to school.  Contact your healthcare provider or the Department of Health regarding your child's symptoms.
Per CDC and AAP guidelines, if your child is not medically evaluated, he/she must remain at home for at least 10 days from the first day symptoms appeared AND 24 hours fever free without fever-reducing medications AND improvement of symptoms.
If you decide to not have your child medically evaluated and choose to keep him/her home for the 10 day recommendation, you must send a written note stating such with your child upon their return to school.
For any additional questions about your child's care contact Department of Health, St. Johns at (904) 506-6217 
A Message from Captain Goodrich
Hello Palencia Elementary families,
We are halfway through the 2nd nine weeks and the teachers, staff, and I couldn't be prouder of the student growth we've watched unfold before our eyes. Each week, deliberate scheduling allows grade level teacher teams to meet for an hour to specifically examine how students are progressing, to sync up their acuity regarding what mastery of curriculum (standards) looks like through student work, to review student tests to determine where pockets of misunderstanding may lie, and to determine next steps in enriching or extending knowledge for students who already mastered grade level content. I so enjoy listening to the teachers celebrate student success and I take pride in teachers' commitment to making sure ALL students demonstrate proficiency on essential standards. Our teachers are, indeed, passionate about what they do. You may have heard teachers or your students refer to these meetings as the PLC (Professional Learning Community) process. A basic principle of the PLC process is teachers working collectively will serve our students better than teachers working alone. Teacher teams capitalize on each other's strengths to benefit the grade level student population as a whole. You may have heard your little one say "we switch classes" or you may have heard a teacher mention "flexible grouping" at Curriculum Chat. For example, a gifted certified teacher may work with a handful of students in other classes who show the need for more challenging material on a given topic. Or let's say the majority of the class scored well on an end of unit test, but two students in the class earned lower scores. Those two students may attend re-teach sessions with another teacher on the grade level who had a different approach delivering the information, or with another teacher with a different teaching style. The idea is that we will not give up on students. If what we tried at first was unsuccessful, we try something else. Interim reports are available for 1st – 5 th grades tomorrow, Tuesday. If you have not already done so, I encourage you to schedule a face to face conference with your child's teacher. It is through parents and teachers working hand-in-hand that students benefit the most.
Together in Education,
Catherine Goodrich

Principal
2021-2022 Instructional Materials Adoption for Mathematics UPDATE
St. Johns County School District curriculum department representatives and adoption committee members have completed the review process for the Instructional Materials Adoption for Math. On January 25, 2022, the School Board will conduct a public hearing to receive comment from the community regarding the final list of recommendations for instructional resources for this adoption. The public is invited to attend this hearing. The hearing will be held at 9:00 a.m. in the auditorium of the District Administrative Building located at 40 Orange Street in St. Augustine.
We encourage parent and community participation in our adoption process. Please visit our Instructional Materials Adoption web page to:
View the resources that are being considered for adoption.
Find out how to serve on a school committee and formally review the resources as a part of the school review team.
Learn more about the policies and procedures for textbook adoption.
B.E.S.T. Standards Presentation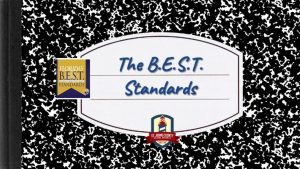 The purpose of the video is to provide parents and community members with information about the new B.E.S.T. Standards for English Language Arts and math. The video also explains the timeline for the implementation of the new standards.
View the B.E.S.T. Standards Presentation
Apply Now for the SJCCA Program at R.J. Murray Middle School
Families of Current SJCSD 5th Graders,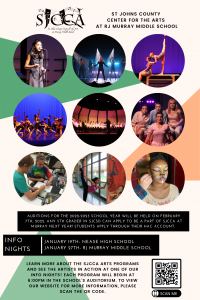 All rising 6th grade students are eligible to apply for admission to the award-winning St. Johns County Center for the Arts (SJCCA) at R.J. Murray Middle School. For over 20 years, SJCCA has been a county and state leader in arts instruction. SJCCA students consistently receive the highest ratings and awards at regional and state competitions. Students who attend SJCCA programs have the opportunity to learn and perform at prestigious locations including the St. Augustine Amphitheater, Broadway, and Walt Disney World. SJCCA students often continue to future arts success at prestigious post-secondary institutions.
To learn more about SJCCA, please visit the MMS SJCCA website or attend one of the following informational sessions:
Tuesday, January 18th at 6pm - Virtual Meeting
Wednesday, January 19th at 6pm at Allen D. Nease High School
Thursday, January 27th at 6pm at R.J. Murray Middle School
Ready to Apply?
All rising 6th graders may apply by completing the general application in
Home Access Center (HAC)
until
February 10, 2022.
Auditions at R. J. Murray Middle School will occur on February 7, 2022.
Change in Afternoon Transportation & EARLY DISMISSALS
For the safety of all students, children may not be checked out of school after 2:15 pm on Monday, Tuesday, Thursday or Friday and 1:15 on Wednesday.
If you need to change the way your child goes home in the afternoon or for an early dismissal, please complete our Dismissal Change Form by clicking the button below.   Early Dismissals – Note  – we do not send children to the front office until you have arrived and shown your photo ID to the front office staff.
Dismissal changes can only be accepted before 2:00pm (1:00pm on Wednesdays).  
We cannot accept phone calls for those changes.  Changes in afternoon transportation should only be for emergency situations.  Thank you for your understanding.
We cannot accept phone calls for those changes.  Changes in afternoon transportation should only be for emergency situations.  Thank you for your understanding.
Bring Your Own Device (BYOD)
The St. Johns County School District is now open to a Bring Your Own Device (BYOD) environment. Please know this is an optional item. District issued devices will continue to be available in our classrooms.
SchoolMessenger provides parents/guardians with a mobile app and website which allows them to view and listen to previous messages and to verify their phone numbers. SchoolMessenger also lets parents/guardians select which modes of communication they prefer (voice/text/email) based on the type of message being sent
District Policies & Procedures
FortifyFL is a website and app developed at the direction of the Florida Legislature. Any student, educator, parent or member of the public can report school safety concerns directly to law enforcement and school administrators anonymously and easily through the FortifyFL app or getfortifyfl.com.
This is just a reminder that anyone (parent, guardian, friend, neighbor, aunt, uncle) must have school access to attend an event at Palencia Elementary, have lunch with a student and/or attend an awards assembly. If you have not already done so, please complete the School Access Form. The process for approval may take up to 4 weeks, so please fill out the application sooner than later for any guests that would like to have school access. Once the application is approved, school access will be valid for three years.