Even with the new guidelines proposed by the CDC, the St. Johns County School District will follow the specific guidance from the local Florida Department of Health regarding how long students should quarantine.
For more information visit PES Health Clinic page
A Message from Captain Goodrich
Greetings Pirate Families,
I cannot believe that we have coasted right into March already! As you know, our last Pirate Post centered around the topic of "treat others as you would like to be treated."
The Golden Rule principle has been the basis of some conversations that have recently surfaced with children during conflict resolution and peer mediations. We discuss incidents that have taken place between students and identify the feelings that transpire when others are unkind. Rough play, fighting, conflict, joking, and teasing all fall into the unkind behaviors that we have seen between peers. These behaviors put friends into uncomfortable, and potentially unsafe, circumstances that we want to avoid. Our goal is to teach why these behaviors are considered improper behaviors and have students identify when these things are happening to themselves or others. We also teach when these incidents become bullying. Bullying behavior is unkind, but not all unkind behaviors are bullying. It is important to recognize the difference and understand the difference as adults.
The St. Johns County Student Code of Conduct defines bullying as ‐unwanted and repeated written, verbal, or physical behavior, or use of digital technologies that include any threatening, insulting, or dehumanizing gesture, by an adult or student, that is severe or pervasive enough to create an intimidating, hostile, or offensive educational environment; causes discomfort or humiliation; creates an existence of an imbalance of power; or unreasonably interferes with the individual's school performance or participation. These actions are also targeted and/or intentional. Bullying is repeated, intentional, and an imbalance of power is present.
As a school, student safety is our number one priority. If you feel that your child has been bullied, report it to administration. The fastest way to report it is to call the front office or to email administration. Students can also report bullying at school by talking to an adult, or filling out a form for reporting and turning it in.
Since bullying is a severe infraction, and can forever impact all students involved, we caution overusing or casually stating the term. If unkind behavior is taking place, it is important to us to carefully investigate each incident to be sure bullying is not occurring, and to stop bullying before behaviors develop further. If you are unsure if the behaviors you are seeing are considered bullying, please reach out so we can help. Our number one priority is to create a safe and secure learning environment for our pirates. We value each student as an individual and will continuously partner with you in order to ensure a positive atmosphere for learning.
Together in Education,
First Mate Holtz
Early Registration
The St. Johns County School District (SJCSD) will begin early registration for the 2021-22 school year March 1. This registration is only for children new to the school district, including those entering kindergarten.
Early registration can be completed online or by visiting the student's assigned school website. To find the assigned school, enter your street address on the Attendance Zone Locator.
To be eligible for public kindergarten in the SJCSD, children must be 5 years old on or before September 1 and must reside in St. Johns County.
---
2020-2021 Instructional Materials Adoption for English Language Arts (ELA)
On February 9, 2021, the St. Johns County School Board voted to approve the list of recommended resources for adoption for English Language Arts (ELA). View the final list of approved resources. Florida Statute allows parents or residents of the county to object to the adoption of a specific instructional material. If you would like to contest the adoption of the ELA resources, you must complete the form below and submit it to our office no later than noon on March 11, 2021.
Reconsideration of Instructional Materials Request Form
If you would like access to available printed materials or require assistance reviewing the online resources, please call the Instructional Resources and Media Services office at 904.547.3947. Materials are available for review from 8:30 a.m. - 4:30 p.m. when district offices are open.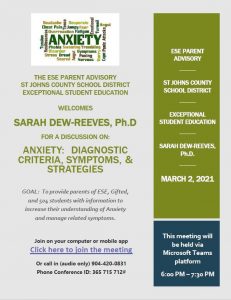 On March 2nd from 6:00pm to 7:30pm, the ESE Parent Advisory will welcome Sarah Dew-Reeves, Ph.D., for a virtual discussion titled "Anxiety - Diagnostic Criteria, Symptoms, & Strategies." Join the meeting online via Microsoft Teams or join via phone by dialing 1-904-420-0831 and then entering the conference ID: 365 715 712#
Change in Afternoon Transportation & EARLY DISMISSALS
For the safety of all students, children may not be checked out of school after 2:15 pm on Monday, Tuesday, Thursday or Friday and 12:15 on Wednesday.
If you need to change the way your child goes home in the afternoon or for an early dismissal, please complete our Dismissal Change Form by clicking the button below.   Early Dismissals – Note  – we do not send children to the front office until you have arrived and shown your photo ID to the front office staff.
Dismissal changes can only be accepted before 2:00pm (12:00pm on Wednesdays).  
We cannot accept phone calls for those changes.  Changes in afternoon transportation should only be for emergency situations.  Thank you for your understanding.
We cannot accept phone calls for those changes.  Changes in afternoon transportation should only be for emergency situations.  Thank you for your understanding.
Bring Your Own Device (BYOD)
The St. Johns County School District is now open to a Bring Your Own Device (BYOD) environment. Please know this is an optional item. District issued devices will continue to be available in our classrooms.
SchoolMessenger provides parents/guardians with a mobile app and website which allows them to view and listen to previous messages and to verify their phone numbers. SchoolMessenger also lets parents/guardians select which modes of communication they prefer (voice/text/email) based on the type of message being sent
District Policies & Procedures
FortifyFL is a website and app developed at the direction of the Florida Legislature. Any student, educator, parent or member of the public can report school safety concerns directly to law enforcement and school administrators anonymously and easily through the FortifyFL app or getfortifyfl.com.
This is just a reminder that anyone (parent, guardian, friend, neighbor, aunt, uncle) must have school access to attend an event at Palencia Elementary, have lunch with a student and/or attend an awards assembly. If you have not already done so, please complete the School Access Form. The process for approval may take up to 4 weeks, so please fill out the application sooner than later for any guests that would like to have school access. Once the application is approved, school access will be valid for three years.