A Message from Captain Goodrich
03-31-2020
Hello Pirate Families,
A special edition Pirate Post will come to you weekly while we are practicing "distance learning."
As our teachers and staff are planning remote instruction for your children, I have asked that we observe and practice the following guiding principles:
–          Our communication will be clear, streamlined, and easy for parents to understand what is expected.  We will do all we can to limit stress at home.
–          We want students to maintain knowledge we have already taught.
–          We will work industriously and creatively, incorporating household items, family routines, and Character Counts! principles as we unfold and teach new academic standards.
–         We will take care of each other.
–     Each day, we are committed to getting better at this new way of work.
Parents, each of you is to be celebrated.  In the middle of a global pandemic, you have embraced overseeing schooling for your child(ren) while also working to balance your family's financial, emotional, and wellness needs.   The teachers, staff, and I are here to support you.  We miss the children dearly and are committed to their continued successes. Without question, advancing your child's Reading and Math skills are important.  Yet what is more important is that each of you is healthy, are connected as a family unit, and have found a sense of peace with this temporary situation. The day will likely come when working on those components takes precedence over an academic assignment.  Take comfort knowing on our end, THAT'S OKAY.
Thank you for the grace you have shown our teachers yesterday and today.  They are a remarkable crew that has worked tirelessly to learn new platforms and convert their classroom to a digital environment in a week. If I may be of service to you, do not hesitate to reach out.
Together in Education,
Catherine Goodrich
Congratulations to Kate Dowdie for being selected as Palencia's Teacher of the Year!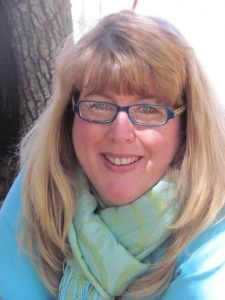 Mrs. Dowdie has been the Music teacher at Palencia since it opened in 2012. She has been the director of all choruses, plays and musicals. Mrs. Dowdie is currently the resource team leader and 1st Vice President of St. Johns Education Association. We are honored for her to receive this title and recognize her many talents.
Congratulations to Margo Rust for being selected as Palencia's Rookie Teacher of the Year!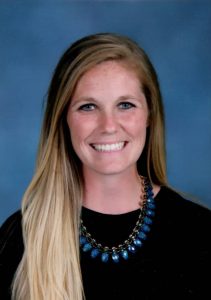 This is Mrs. Rust's third year as a Palencia Pirate. She is currently teaching 3rd grade. She is committed to her students success and works collaboratively with her 3rd grade team and staff. We are so proud of her for all her success so early in her teaching career.
Change in Afternoon Transportation & EARLY DISMISSALS
For the safety of all students, children may not be checked out of school after 2:15 pm on Monday, Tuesday, Thursday or Friday and 1:15 on Wednesday.
If you need to change the way your child goes home in the afternoon or for an early dismissal, please complete our Dismissal Change Form by clicking the button below.   Early Dismissals – Note  – we do not send children to the front office until you have arrived and shown your photo ID to the front office staff.
Dismissal changes can only be accepted before 2:00pm (1:00pm on Wednesdays).  
We cannot accept phone calls for those changes.  Changes in afternoon transportation should only be for emergency situations.  Thank you for your understanding.
We cannot accept phone calls for those changes.  Changes in afternoon transportation should only be for emergency situations.  Thank you for your understanding.
A proposal has been created for three school year calendars on the district's website for public input.  The district is taking public input through February 27, 2020.  
The link is listed below:
Bring Your Own Device (BYOD)
The St. Johns County School District is now open to a Bring Your Own Device (BYOD) environment. Please know this is an optional item. District issued devices will continue to be available in our classrooms.
SchoolMessenger provides parents/guardians with a mobile app and website which allows them to view and listen to previous messages and to verify their phone numbers. SchoolMessenger also lets parents/guardians select which modes of communication they prefer (voice/text/email) based on the type of message being sent
District Policies & Procedures
District-Wide Registration
Registration for the 2020-2021 school year will begin on March 2nd.
New Students
District-wide registration for the 2020-2021 school year will begin on March 2nd. Starting on that date, you will be able to click the Register My Child For School button on our school website to complete an online registration form for your child.
Returning Students
Beginning the week of March 23, parents/guardians of all current students will receive an email from PowerSchool to complete the annual Returning Student Verification Form for the upcoming school year. The email will contain the link and instructions needed to complete the verification.
FortifyFL is a website and app developed at the direction of the Florida Legislature. Any student, educator, parent or member of the public can report school safety concerns directly to law enforcement and school administrators anonymously and easily through the FortifyFL app or getfortifyfl.com.
This is just a reminder that anyone (parent, guardian, friend, neighbor, aunt, uncle) must have school access to attend an event at Palencia Elementary, have lunch with a student and/or attend an awards assembly. If you have not already done so, please complete the School Access Form. The process for approval may take up to 4 weeks, so please fill out the application sooner than later for any guests that would like to have school access. Once the application is approved, school access will be valid for three years.
Update from Superintendent Forson, April 1
Dear SJCSD Parents and Guardians,
Today we faced additional challenges with connectivity to Schoology. I share this frustration with you and assure you that we are working with the vendor to solve these issues. In the meantime, I encourage you and your child to reach out to his/her teacher via email. As I wrote yesterday, patience and flexibility are paramount. We will keep getting better.
Meal service will continue at designated school and community sites until further notice. This is an essential service offered to children 18 years or younger in need of breakfast and lunch while we are closed. In the last few days there have been posts on social media encouraging others to visit specific schools to receive these meals. Some of these posts encourage community members with children to drive through more than once to prevent the service from ceasing and preserve job functions at these sites.
While we want families who need the meals to receive them for their children, prompting the community to show up just to get meals puts a strain on distribution. It prevents us from allocating funding, efforts and resources where the need is greater. For updated information on meal service, visit https://www.stjohns.k12.fl.us/blog/mealservice/.
Today Governor DeSantis issued an executive order to stay at home except for individuals who are essential employees providing essential community services as defined by the U.S. Department of Homeland Security. In this guidance, "educators supporting public and private K-12 schools, colleges, and universities for purposes of facilitating distance learning or performing other essential functions" is included in the essential critical infrastructure workforce. We are continuing to review and define essential staff through job functions while promoting a work at home model for employees who can.
I appreciate your commitment to your child's education. I value the support and trust you have placed in the St. Johns County School District to instruct your children while we continue to learn in this new environment.
Sincerely,
Tim Forson
Superintendent
St. Johns County School District