Please submit the ONLINE ATTENDANCE FORM to the front office when your student in absent.
Change in Afternoon Transportation & EARLY DISMISSALS
For the safety of all students, children may not be checked out of school after 2:15 pm on Monday, Tuesday, Thursday or Friday and 1:15 on Wednesday.
If you need to change the way your child goes home in the afternoon or for an early dismissal, please complete our Dismissal Change Form by clicking the button below.   Early Dismissals – Note  – we do not send children to the front office until you have arrived and shown your photo ID to the front office staff.
Dismissal changes can only be accepted before 2:00pm (1:00pm on Wednesdays).  
We cannot accept phone calls for those changes.  Changes in afternoon transportation should only be for emergency situations.  Thank you for your understanding.
We are in need of one parent of a student in grades K-2, one parent of a student in grades 3-5, and one community member to serve on the 22-23 Media Advisory Committee.  If you are interested in serving on this committee, please fill out the following form by September 15, 2022:  
https://forms.office.com/r/WwrrgZRs2B
We appreciate your willingness to help!
A MESSAGE FROM CAPTAIN GOODRICH
Greetings PES families,
Thank you to all who attended our Curriculum Chat evenings. The home-school connection is paramount to optimum student success.
Last week, Deputy Cicero and I led grade level safety assemblies. The key points in our half hour presentation were: where to go and what to do during a lock down drill, and the importance of talking to trusted adults immediately if something doesn't seem right, or if a student does not feel safe when at home or at school. I encourage families to have open and regular communication with their child(ren).
As you likely know, our field play space and swing set back right up to Regalo Road. This requires extra vigilance from our staff when students are at recess. I ask that parents refrain from stopping at the back fence in an effort to speak with or watch their child(ren) at play. Members of our school team will contact our school resource deputy immediately if someone is seen at the fence line. Thank you for your support.
If items from home must be dropped off after the school day has begun, (i.e. water bottles, lunch boxes), please do ensure they are clearly labeled with your child's first and last name. Know that a cafeteria lunch will be provided to any student who is without a lunch from home, so parents do not need to worry about their child going hungry. Our water fountains have re-opened from the Covid precaution period, and students may access them as needed. Forgotten homework will not be accepted by school staff, as we are working to develop our students' responsibility in this area.
SJCSD is keeping a close eye on the storm and will provide updates as we have them. Stay safe.
Together in Education,
Catherine Goodrich
Principal
Palencia Elementary School
(904) 547-4010
"Connecting Families to Community Resources" on Oct. 4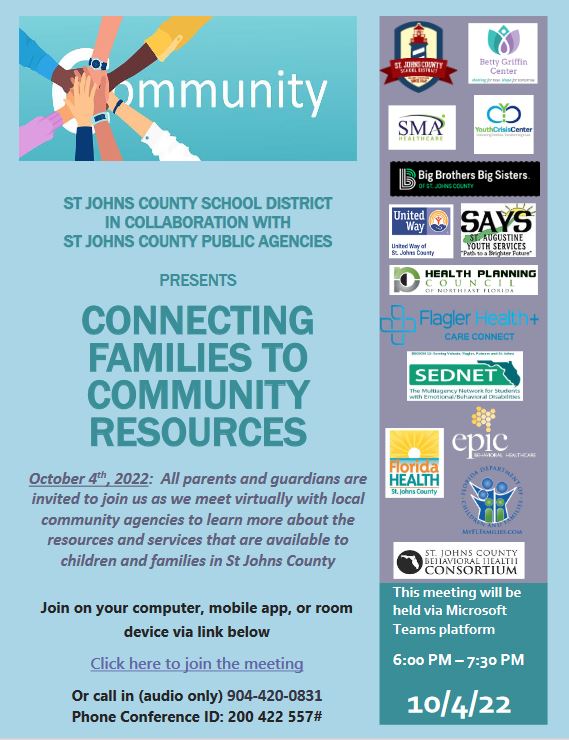 Please join us on October 4, 2022, from 6pm to 7:30pm for a virtual discussion titled "Connecting Families to Community Resources." All parents and guardians are invited to join us as we meet virtually with local community agencies to learn more about the resources and services that are available to children and families in St Johns County.
SchoolMessenger provides parents/guardians with a mobile app and website which allows them to view and listen to previous messages and to verify their phone numbers. SchoolMessenger also lets parents/guardians select which modes of communication they prefer (voice/text/email) based on the type of message being sent
Bring Your Own Device (BYOD)
The St. Johns County School District is now open to a Bring Your Own Device (BYOD) environment. Please know this is an optional item. District issued devices will continue to be available in our classrooms.
District Policies & Procedures
FortifyFL is a website and app developed at the direction of the Florida Legislature. Any student, educator, parent or member of the public can report school safety concerns directly to law enforcement and school administrators anonymously and easily through the FortifyFL app or getfortifyfl.com.
This is just a reminder that anyone (parent, guardian, friend, neighbor, aunt, uncle) must have school access to attend an event at Palencia Elementary, have lunch with a student and/or attend an awards assembly. If you have not already done so, please complete the School Access Form. The process for approval may take up to 4 weeks, so please fill out the application sooner than later for any guests that would like to have school access. Once the application is approved, school access will be valid for three years.
Add Your Heading Text Here