Important Reminder:
Earlier Release starts Wednesday October 14th at 12:55pm. Dismissal will be every Wednesday at 12:55pm until after winter break.
A Message from Captain Goodrich
Hello Pirate Families,

What an exciting time it has been at Palencia Elementary these last few weeks! We have wrapped up the first quarter, named our Teacher of the Year and Rookie Teacher of the Year, had a marvelous book fair, a virtual field study, Red Ribbon Week- topped off with Dress Like a Pirate Day of course, The Ned Show, Golf Tournaments and more! Each day is a great day to be a pirate. Your children are truly exceptional and bring the light to our ship.

Another exciting event on the horizon is Grandparents Day! We are planning a surprise for our pirates this year in the form of a good oldfashioned letter exchange. Our wonderful PTO has organized a classroom delivery of these letters and our students will be able to respond to their special folks who have written to them. We are excited to keep this tradition going and value the multi-generational connection that we share.

Tomorrow, Wednesday, November 11, 2020, we will be celebrating Veterans Day. This is a student and a teacher holiday. I encourage you and your family to find time for reflection on the many beautiful opportunities that we have in our country, and the service of our soldiers and military who make our freedoms possible. We are proud and grateful to have PES family members who have served and who are currently serving our country. Thank you for the service and protection that you so nobly provide.

Lastly, along with our Teachers of the Year recently, PES also has recently been able to name our School-Related Employee of the Year (SREY)! Mrs. Wilda Limardo, a para-professional for us, has been nominated by her peers to represent Palencia Elementary as our SREY this year. We would like to congratulate her and thank her for all her hard work and dedication.
Together in Education,
First Mate Holtz
2020-2021 Instructional Materials Adoption for English Language Arts (ELA)
The St. Johns County School District curriculum department formally announces the review process for the 2020-2021 Instructional Materials Adoption for English Language Arts (ELA). The core resources that have been submitted for evaluation have come from the state adoption bid list and other submitted resources from publishers when available. Additional resources for advanced programs may be reviewed from materials listed as appropriate for the program indicated.
Please visit the instructional materials website to view the resources that are being considered for adoption. If you would like access to any available printed materials or require assistance reviewing the online resources, please call the Instructional Resources and Media Services office at 904.547.3947. Materials are available for review from 8 a.m. - 4:30 p.m.
We encourage parent and community participation in our adoption process. If you would like to serve on a school committee and formally review the resources as a part of the school review team, please contact any school or our office at 904.547.3947.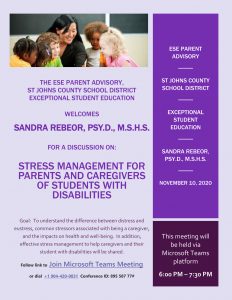 On November 10th from 6:00pm to 7:30pm, the ESE Parent Advisory will welcome Sandra Rebeor, Psy.D. M.S.H.S. for a virtual discussion titled "Stress Management for Parents and Caregivers of Students with Disabilities." Join the meeting online via Microsoft Teams or join via phone by dialing 1-904-420-0831 and then entering the conference ID: 95 587 77#
Change in Afternoon Transportation & EARLY DISMISSALS
For the safety of all students, children may not be checked out of school after 2:15 pm on Monday, Tuesday, Thursday or Friday and 12:15 on Wednesday.
If you need to change the way your child goes home in the afternoon or for an early dismissal, please complete our Dismissal Change Form by clicking the button below.   Early Dismissals – Note  – we do not send children to the front office until you have arrived and shown your photo ID to the front office staff.
Dismissal changes can only be accepted before 2:00pm (12:00pm on Wednesdays).  
We cannot accept phone calls for those changes.  Changes in afternoon transportation should only be for emergency situations.  Thank you for your understanding.
We cannot accept phone calls for those changes.  Changes in afternoon transportation should only be for emergency situations.  Thank you for your understanding.
Bring Your Own Device (BYOD)
The St. Johns County School District is now open to a Bring Your Own Device (BYOD) environment. Please know this is an optional item. District issued devices will continue to be available in our classrooms.
SchoolMessenger provides parents/guardians with a mobile app and website which allows them to view and listen to previous messages and to verify their phone numbers. SchoolMessenger also lets parents/guardians select which modes of communication they prefer (voice/text/email) based on the type of message being sent
District Policies & Procedures
FortifyFL is a website and app developed at the direction of the Florida Legislature. Any student, educator, parent or member of the public can report school safety concerns directly to law enforcement and school administrators anonymously and easily through the FortifyFL app or getfortifyfl.com.
This is just a reminder that anyone (parent, guardian, friend, neighbor, aunt, uncle) must have school access to attend an event at Palencia Elementary, have lunch with a student and/or attend an awards assembly. If you have not already done so, please complete the School Access Form. The process for approval may take up to 4 weeks, so please fill out the application sooner than later for any guests that would like to have school access. Once the application is approved, school access will be valid for three years.