Even with the new guidelines proposed by the CDC, the St. Johns County School District will follow the specific guidance from the local Florida Department of Health regarding how long students should quarantine.
CDC updates regarding quarantine requirements after vaccination:
Individuals who have been fully vaccinated – that is, 2 weeks or more have passed since the second dose in a 2-dose vaccine or the first dose in a 1-dose vaccine series – will not be required to quarantine following exposure, provided he/she does not develop new symptoms of COVID-19. 
The Department of Health (DOH) requests that we follow the current contact tracing protocol, regardless of vaccination status.  They will contact exposed individuals to ensure no symptoms have developed, research his/her vaccination status in the state system, and provide further COVID education.  The DOH will determine if the individual is exempt from quarantine.  The Health Services Department, as well as the school nurses, will work diligently to assist students, parents and staff in this process.

For more information visit PES Health Clinic page
Updated Quarantine Guidelines 12.8.2020
A Message from Captain Goodrich
Greetings Palencia Elementary School Community,
We are eager to meet our new families! If you joined us this year or will join our school next year, we have planned a welcome event for you. See page 2 for details.
This afternoon, SJCSD reminded school leaders that masks/ face coverings are still required in school, when social distancing is not feasible. Thank you for reminding your children of this expectation, as well. I am very hopeful that next school year Covid prevention protocols will be lessened. Time will tell.
I welcome feedback from you regarding this newsletter. The Pirate Post is, of course, meant to inform. However we also aim to provide a glimpse of our school culture, individual staff personalities, student achievements, and PTO happenings. Email me your thoughts, suggestions for improving readability, and areas that you most appreciate at [email protected].
Together in Education,
Captain Goodrich
B.E.S.T. Standards Presentation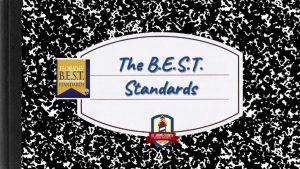 The purpose of the video is to provide parents and community members with information about the new B.E.S.T. Standards for English Language Arts and math. The video also explains the timeline for the implementation of the new standards.
View the B.E.S.T. Standards Presentation
No ESE Parent Advisory Meetings are scheduled at this time. The meetings will resume during the 2021-2022 school year.
Change in Afternoon Transportation & EARLY DISMISSALS
For the safety of all students, children may not be checked out of school after 2:15 pm on Monday, Tuesday, Thursday or Friday and 1:15 on Wednesday.
If you need to change the way your child goes home in the afternoon or for an early dismissal, please complete our Dismissal Change Form by clicking the button below.   Early Dismissals – Note  – we do not send children to the front office until you have arrived and shown your photo ID to the front office staff.
Dismissal changes can only be accepted before 2:00pm (1:00pm on Wednesdays).  
We cannot accept phone calls for those changes.  Changes in afternoon transportation should only be for emergency situations.  Thank you for your understanding.
We cannot accept phone calls for those changes.  Changes in afternoon transportation should only be for emergency situations.  Thank you for your understanding.
Bring Your Own Device (BYOD)
The St. Johns County School District is now open to a Bring Your Own Device (BYOD) environment. Please know this is an optional item. District issued devices will continue to be available in our classrooms.
SchoolMessenger provides parents/guardians with a mobile app and website which allows them to view and listen to previous messages and to verify their phone numbers. SchoolMessenger also lets parents/guardians select which modes of communication they prefer (voice/text/email) based on the type of message being sent
District Policies & Procedures
FortifyFL is a website and app developed at the direction of the Florida Legislature. Any student, educator, parent or member of the public can report school safety concerns directly to law enforcement and school administrators anonymously and easily through the FortifyFL app or getfortifyfl.com.
This is just a reminder that anyone (parent, guardian, friend, neighbor, aunt, uncle) must have school access to attend an event at Palencia Elementary, have lunch with a student and/or attend an awards assembly. If you have not already done so, please complete the School Access Form. The process for approval may take up to 4 weeks, so please fill out the application sooner than later for any guests that would like to have school access. Once the application is approved, school access will be valid for three years.