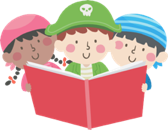 MEDIA CENTER 2020 SUMMER READING EBOOK CHALLENGE
Reading just 6 books this summer can help your student avoid reading loss. We are challenging our pirates to read 6 books from our MackinVia eBook collection. We have created summer reading lists from MackinVia for each grade level. Students who complete the challenge will receive a Smencil and be invited to a Summer Challenge Celebration in the Media Center. Students who complete the challenge will also be entered into a drawing for a chance to win one of six $20 gift certificates to the Fall Book Fair. Follow the steps below to participate.
Log in to the MackinVia Username – S-Number, Password – Same as Computer Password (Guest Login: Username: palencia, Password: pirates)
Read at least 6 books from your grade level list posted below and on the MackinVia home page.  Use the list for the grade your child is entering in August 2020.
Circle the books your child reads on this form and complete the name and new teacher information. Return this form after school starts by August 28, 2020.
Were you a 19-20 Fifth Grade Student going to Pacetti Bay Middle School?  Click the button below to see how you can participate in the PBMS Media Center Summer Reading Challenge!